Fantastic Log Table Raffle
Mike Wessel of Wessel's Custom Log Works meet with Dir. Lloyd C wishing to donate a large 8'4″ long – 4'4″ wide and the top is 4″ thick weighing approximately 227 kg (500 lbs) but disassembles for easy transport. The value was estimated at $2000.00 Without hesitation Dir Lloyd agreed that a raffle was in order.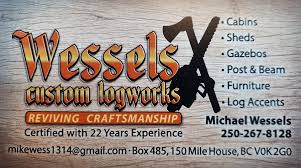 Mike started to work on the table immediately drawing on his 25 years of experience in working with logs from log homes to furniture. The shape was cut with power tools but Mike wanted to add his personal touch so sanding and finishing was done by hand, a lot of hand work.
In the mean time Dir Lloyd started to the process with Dir Gavin L (Sec) in obtaining the necessary legal permissions for 400 tickets maximum at $10.00 a pieceand it was decided that May 01 2020 would be the draw date. The table was on it's first public display at the 2020 Wild Game Night to great reviews and high praise for Mike.
Tickets were distributed to WLSA directors to sell and the campaign was off. Unfortunately On Wed March 11 2020 the Province declared a Covid-19 pandemic bringing everything to a screaming stop.
The World Health Organization declares the COVID-19 outbreak a pandemic. The province says the British Columbia Pandemic Provincial Co-ordination Plan is in motion, and focused on containing the coronavirus by breaking up transmission chains.

cbc.ca/news
There had been some sales but now they were non existent, social contact was at minimal and we all wondered took precautions as for may this was the first pandemic experience, and it was primarily effecting the seniors.
The time for the draw was fast approaching, ticket sales were dismal and an opportunity would be lost. Dir Gavin L (Sec) applied to the BC Gaming Commission for an extension due to extenuating circumstances and the draw date was extended to Monday July 13 2020 at 5:00 pm and that the ticket count would not be increased. The push was on.
As social distancing was still in place Dir Lloyd made arraignments with Canadian Tire and Save on Foods to have the table present near the doors and members would sell the tickets. A list of volunteers was drawn up for the 2 locations and the race was on.
Though the total ticket sales were not to the level that was anticipated prior to covid-19 the efforts made by the volunteers turned a near disaster to an acceptable win.
On Monday July 13 2020 at 5:00 pm Dir Dave C (who did not have a ticket in the draw) drew ticket number 0127 belonging to Beverly Crawley of Williams Lake who was told of her good fortune.
WLSA would like to thank Mike Wessel for providing us with such a fantastic log table to raffle, all those who purchased a ticket for the draw, those that supported our effort by providing us a venue to present the table to sell tickets and to all of the fantastic people we met, purchasers and non-purchasers who made the effort a good time.
Potential winner: I'm sorry I only have my debit card, can you accept that? (said with a knowing smile)

WLSA Volunteer: Sorry but we don't (said with real sadness)

Numerous potential winners
Good news, we are working on having a debit machine available for next time.